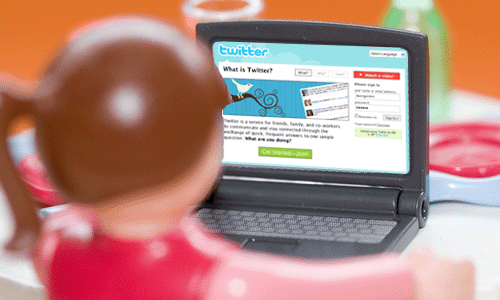 Original photo by: brycej
Twitter has already become an integral part of many of our online experiences. It's used throughout the week on CNN by anchors such as Don Lemon () and Rick Sanchez () to communicate and interact with viewers. If that's not a stamp of approval, I don't know what is. And, as the volume of users rise, so does the number of third party sites, tools, and services that all serve to make Twitter more dynamic, meaningful, and useful.
A lot of them, such as Ping.fm and , are probably familiar to most of us. Others, like TwitHire and Twubble, not so much. Sifting through it all can be a challenge. So, to help make things easier, I've searched the Web, combed through the blogosphere, and rummaged through my del.icio.us bookmarks to sort and list some of the best Twitter sites and services the Net has to offer. This is by no means a definitive list, but I think it'll serve us bloggers, Internet marketers, entrepreneurs, and social media junkies well.
I'm sure there are some good, and probably a few essential, services that I forgot to mention. If you know of one I missed, perhaps one you're using, please let us know in the comments section. Domo arigato.
Oh, and follow me here:
Contact Management
TweetBeep - Google Alerts meets Twitter. Great service that notifies you whenever your name (or any other word you specify) is mentioned. Use it to catch that might have been missed, for reputation management, or customer support (you'd be surprised how many people vent their frustrations on Twitter).
GroupTweet - Great tool to use if you want to send public tweets simultaneously but only to a select group of people. For instance: sending notifications to your web development team or special updates to members of your family.
DoesFollow? - Find out if who if the person you're following is following you back.
FriendOrFollow - Gives you breakdown of a) those you follow who do the same, and b) a list of those you don't follow but follow you.
Twubble - Want to find more Twitter peeps to follow? Twubble is a sweet site that searches through your "friend graph" to get an idea of your current social network. It then returns a visual list of those who you might consider following based on that information.
Tweet2Tweet - Allows you to view a conversation in a much easier fashion.


Twitter for Bloggers

Twitter Tools - This plugin allows you to "pull in" your tweets to your blog. It can also updates Twitter whenever you make a new blog post. (note: you might have to scroll below the fold to find the plugin on the site)
Twitter for Wordpress - Simple plugin that also "pulls in" your tweets using a sidebar widget. Very easy to use; in fact, this is what I'm currently using on deontee.com.


Search and Directories

(formerly Summize) - Hands down, one of the best tool for finding Twitter conversations and conducting niche/keyword research.
Twitscoop - Real-time current events for Twitter. Use it to research the latest trends and to find out what's the hottest buzz… Also has a nifty tag cloud feature that's quite useful.
Twellow - A great Twitter directory… Fantastic way to connect with others in you niche and industry. Also links to other social networking profiles such as Facebook and LinkedIn. P.S. Don't forget to add your profile as well.
Just Tweet It - Another cool directory. This one allows you to be notified of new additions to your particular niche/industry category. Great for connecting with like-minded individuals.
Twitterholic - Showcases the top 100 Twitter users. Test out your reverse engineering skills by following with these Twitter rockstars and find out what they're doing to gain followers and increase their visibility.


Time Savers, To-Do's, and Productivity

Tweet Later - An essential service for many Twitter users. This site is all about automation. With Tweet Later, you can automatically 1) send 'thank you' and welcome messages to new followers, 2) "return-follow" your new followers and 3) schedule tweets to be delivered at a specified time in the future.
Remember the Milk - The popular task management service now has Twitter integration to let you manage and create tasks right from Twitter. Notification and task reminders can also be setup to be delivered.
TwitterCal - If Google is your calendar of choice, take a look at this site which lets you add entries just by sending tweets.
iTwitter - An application that integrates with your iGoogle homepage.


Desktop Software/Clients

- An absolutely fantastic Twitter client. This Adobe Air application integrates with your desktop and gives you a enormously wide range of features and controls to extend and enhance your Twitter experience. You can sort your tweets into replies, groups, keywords, topic, etc. Other features include multiple columns, overnight updates while you sleep (or bar hop), and tweet filters.
Twhirl - Another great Twitter client. Features include the ability to cross post (to sites like Jaiku and Pownce), a built-in URL shortener, and the ability to connect to other services such as Seesmic and Friend Feed.


Status Updaters

Ping.fm - Update Twitter and a plethora of social networking sites such as Myspace, Facebook, and Pownce at the same time… Wonderful time saver!
Hellotxt - Another good status updater for your social networking.


Creative Uses, Interactivity

- Easily post your photos and share them on Twitter.
TwitSay - Record a 10 second voice message and share it with your Twitter peeps. Use it as a quick and creative way to engage your followers, especially when you can't text or don't have access to a computer.
Twitter Keys - Have you ever seen icons and shapes in someone's tweets? You might've even sent some yourself. Well, this cool site provides you with a bookmarklet that you can drag to your bookmarks toolbar. Click it to reveal a nifty, little popup with plenty of characters and icons you can use to spice up your tweets and make them stand out.
TwittyTunes - If you're using the FoxyTunes plugin for Firefox, you can use TwittyTunes to easily tweet about the song you're jamming to online. You can also share the sites you're viewing, and videos you're watching.
TwitHire - A free job listing board. Employers can promote their employment opportunities to social savvy job seekers… One of the most unique uses of Twitter I've seen.
Straw Poll - Need to get feedback? Create a poll and solicit responses just by tweeting… Cool interface, too!


URL Shorteners

Snip URL - As I'm sure you know, Twitter doesn't lend itself well to the long-winded. With only 140 characters at your disposal, shortening long website addresses is a must. Snip URL is one of the best in the game, in my opinion. You can create an account, easily share your links, and even view unique clicks (something many similar sites don't offer).
TinyURL - One of the most popular URL shorteners around. Also has a bookmarklet you can drag to your bookmarks toolbar… Allows you to create shortened URLs with a single click.
is.gd - With only four letters (and a dot), is.gd is great for URL shortening.


Account Management and Notifiers

TweetTake - Backup your followers, favorites, or just your entire Twitter account. Why? Remember the Twitter crash of Black Thursday (back in July 2008 when scores of users lost followers overnight)? I rest my case.
Twitterless - Service that sends you a DM (direct message) when you lose a follower.
Qwitter - Another services that sends you a notification when someone stops following you. This one sends you an email instead of a DM. Caveat: I think the jury is still out on these services. There might be legitimate reasons someone stops following you (e.g. they're "following" you more on Pownce or Facebook). Or, there might not be a reason at all. However, this service might be good to use if you've been losing followers and want to find out why. Perhaps, you're adding more noise than value. Maybe you tweet entirely too much. Regardless, use at your own discretion. Personally, I wouldn't recommend confronting the person who un-followed you. Use this tool for research, not battle. (Make love, not war.)


Stats, Metrics, and Tracking

TweetBurner - Another essential service to add to your Twitter toolbox. This service lets you track the links that you share on Twitter… Also acts as a URL shortener.
Grader for Twitter - A tool that grades your relative reach and influence on Twitter. It also suggests a few people you should follow based on your profile.
Twitter Counter - Simple to use site (just plug in your Twitter name) and get stats that span a week. Use it to chart your progress in acquiring followers. Also offer a chicklet counter that can be added to your website or blog.
TweetStats - Add this stats tool to the essentials pile. This site offers detailed stats of your tweets, who you sent them to the most and when you usually sent them… Very nice breakdown of data.
twInfluence - Great tool for measuring the reach of your account and your entire network… Measures metrics like your "velocity" and "social capital."
Hashtags - A service that lets you tag your posts as a way to group and organize them with others.
TwitterTise - Brand advertising meets Twitter… Track your links and measure their effectiveness.


Mobile

Twittelator - Twitter for your iPhone… Comes with a massive and very impressive feature list.
TwitterBerry - Crackberry users rejoice! The latest version boasts new features and a larger cache.


Honorable Mentions

Twitter Digest - A site that helps you read your Twitter updates in a more manageable fashion. You can view the tweets in a "digest" format in either a Web page or RSS feed.
Twittad - Monetize your Twitter account by selling your background space. The idea is interesting, but I'm not sure how much it'll catch on (or even if it should). Regardless, it's definitely something worth checking out.
TwitterIM - IM junkies can send tweets using their Windows Live chat client.
CurseBird - A hilarious site that culls the profanity laced tweets together and displays them in a real-time feed. Great for a quick laugh — especially when a sports team is playing. Ah, the things that piss people off.
Twitturly - Think Digg meets Twitter. Twitturly is a site that acts as a real-time link tracker. A great way to find out what's the latest buzz on Twitter. As of now, a lot of the entries appear to be links pointing to the same few topics, but as Twitter grows, I believe the usefulness of Twitturly will too. Regardless, there are still some gems to be found. A site worth checking out, in my opinion.
–
Blog Jams [Listening To: Common, "I Used to Love H.E.R."]
If you're new here, you may want to subscribe to my RSS feed. Thanks for stopping by to visit!